March 30, 2023
02 : 13 pm
Hotel Management often called Hospitality Management is one of the most demanding course trending in the market of academics.an individual gets opportunities very easily in all field, not only in hotels but can opt for airlines, cruises,luxury management,catering industry, event management, facility management etc.
Hotel management courses deal with the hospitality sectors such as hotels, customer service, cooking, front office management, etc. Hotel management fees range between INR 1 lakh – 4 lakh for a bachelor's or master's level course in hotel management.
However, students can pursue hotel management certificates and diploma courses for less than INR 1 lakh. Hotel management is a branch of the hospitality industry that oversees the operations of a hotel.
As a hotel manager, you might oversee the operations of a motel, resort, or another similar establishment that offers lodging and other services to guests.
The front office or front desk, reservations, housekeeping, revenue, sales and marketing, events and catering, finance, food and beverage, security, human resources, and engineering are some of the most common departments at a major hotel.
Working in any of these areas of the industry could lead to a career in hotel management.
Housekeeping, guest services, engineering, food and beverage, accounts, and sales and marketing may all be departments in a smaller hotel.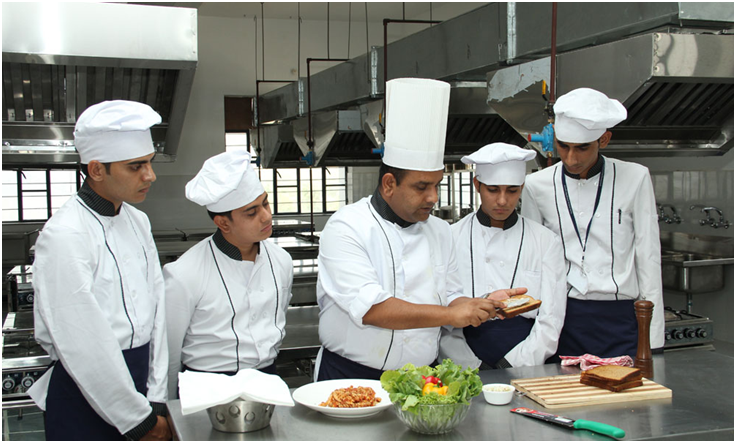 WHY TO CHOOSE HOTEL MANAGEMENT?
IT'S A CARER WITHOUT LIMITS
A Hotel management degreeprepares you for a successful career with the potential to grow into a number of high-level positions. The sheer diversity of the hospitality industry means you'll never be limited in your job search. Whether you want to go down the hotel management career path, have the desire to run an exotic, remote resort or fancy managing a casino, the choice is yours.
And it's not just about hospitality. Our graduates have taken roles in sectors as varied as digital technology,mobile wellness apps and event management.By studying at Glion, you will open up a world of opportunities.
Studying a hospitality management degree gives you the opportunity to see the world. A boutique hotel in a big city? A restaurant on an exotic beach? Our hospitality management degree can take you there. And the global travel starts while you are with us.
Within the next decade, international tourist numbers are forecast to reach 1.8 billion. This means hospitality professionals will be in high demand across the globe. The possibilities are endless.
YOU CAN BE APART OF INCREDIBLY EXCITING INDUSTRY
Hospitality is set to create more than 80 million new jobs over the next ten years, which means it is not only evolving, but also incredibly secure. Additionally, by 2026, one in nine jobs will be in the travel and tourism sector. But these are just numbers. What makes this industry so exciting is the way digital technology is transforming how we choose, buy – then share – our travel and hospitality experiences. If you want to play your part in this industry evolution you can do so with a Glion undergraduate or graduate degree.
YOU WILL LEARV VITAL SKILLS
Skills like leadership, teamwork and organization aren't just useful in the hospitality business. In fact, they're highly valuable in any industry. To be successful as a manager, you need to have a mixture of soft and hard skills. It's why soft skills in particular are so in demand among recruiters.
A manager has to lead rather than follow, but they also have to listen. Plus, they have to show flexibility, as well as an ability to work in multiple departments. Soft skills really make a difference to guest satisfaction, while hard skills like business knowledge and attention to detail are crucial for an organization's success. Studying at Glion also means you'll get to meet and work with people from many different cultures and nationalities, giving you incredible cultural insights that will serve you well in our increasingly globalized world.
YOU WILL BECOME PART OF HOSPITALITY MOST POWERFULL NETWORK
Connections are crucial in any industry, but especially hospitality. By studying at Glion you will join an elite, worldwide alumni network. The 14,000-strong Glion alumni are only too happy to support one another in their business and career endeavors. The network is your ready-made, gold plated international contact book. Once you are part of it you will be able to interact with fellow alumni online as well as participating in exclusive alumni events staged throughout the world.
As mentioned up, job opportunities after hotel management courses are practically endless. After a hotel management course, candidates not only explore job opportunities in India but a large portion of graduates are also able to land jobs abroad in countries like New Zealand, USA, UAE, Canada etc. Here are some of the career options you have after a hotel management degree.
Hotels / Spas / Resorts
Hotels are the primary employers of hotel management graduates. The hotel industry offers good career opportunities and is great for freshers as it can help a candidate gain experience in a diverse range of operations. Hotels are also great as they are much more inclined to accept fresher graduates in trainee roles than many other avenues listed below.
Restaurants / Bars / Clubs
Many hotel management graduates can also be found working in businesses such as restaurants, bars and clubs. However, these mainly recruit trained graduates for its kitchen staff and managerial posts. Most of the other posts are professionals with no formal training. One more thing to note is that the salaries paid by these establishments can be below average if you are not working at top-end places or large chains.
Airline Kitchens / In-Flight Operations
Airlines are another major recruiters for hospitality graduates. Airline industries mostly hire candidates who have a recognized degree, diploma or certificate course in hotel management. Plus, they have career opportunities not only in the kitchens but also in providing in-flight services. Airlines give you the advantage of being a much more organized sector of the economy and you also get better pay here than in many other industries.
Cruise Liners
Cruise Liners deserve a category of their own as they are one of the more glamorous jobs in hotel management. They keep you in touch with a lavish lifestyle while also offering a chance to travel on some of the most beautiful waters on board magnificent watercraft. Plus, the pay is exceptionally good. Do keep in mind that cruise liner staff is overworked almost all the time and you are basically on duty 24×7 serving large crowds of party-goers and people enjoying their vacation. While it is a career area preferred by freshers, more experience professionals generally avoid this avenue, choosing to opt for a more fixed place of opportunity than a cruise ship.
Fast Food Chains
Fast Food chains are one of the most booming businesses all around the world. Fast-food chains have an enormous network of outlets and have a restaurant even in many small towns and villages. Naturally, they have a good requirement for trained professionals to manage these outlets and hotel management graduates can look for executive and management roles in these companies.
Indian Navy / Indian Army Hospitality and Catering Services
The naval and land wings of the defence forces also open recruitment for posts related to hospitality and catering. The army requires applicants to have at least a diploma or certificate in hotel management and catering technology. The Navy posts are open to candidates who have completed at least Class 10.
Hotel Management is an attractive field but it is important to understand the reason to pursue a hotel management course. Hotel management is a field where practical training is crucial to becoming successful. Even a student who has pursued a course from the top hotel management college in India will not be able to land a good job without first going through the training phase. So, it becomes important to understand why even pursue a hotel management course.
The theoretical knowledge gained in a hotel management course forms a solid foundation. The experience gained after having this knowledge helps you become a professional in the hospitality industry.
Hotel management courses include practical training and hence you get to learn a lot of skills that help you become a seasoned professional.
Having a hotel management degree helps open up career avenues early on.
Completing a hotel management course opens up opportunities for higher education such as a master's degree or PhD in the field.
You can look for intern or training opportunities in top hospitality establishments after completing a hotel management degree.
Hotel management courses also include brushing up communication skills and help boost your confidence to ace in a professional role.
Your hotel management college and colleagues are a support system that will help you throughout your career.
So what are you waiting for?