Front Office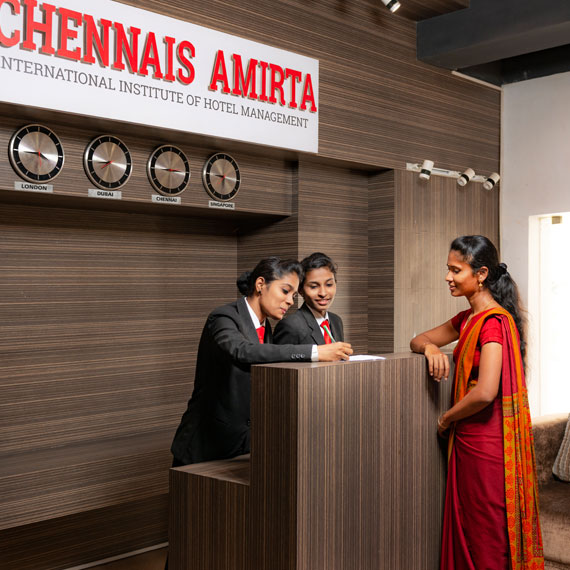 Front office is the nerve centre of the hotel which is beautifully designed in form of lobby which gives a practical exposure for students to how to work in the front office department. It is well designed which is fully air conditioned and also equipped with all modern amenities like EPABX (Electronic Private Automatic Branch Exchange) Fax, internet, Printer, scanner, CCTV cameras, Etc.
The front office is designed in such a way that it offers an opportunity for every student to get a glimpse of real world .It enables each and every student in getting trained in welcoming guest, learning greeting gesture and posture, ask for personal information and undertaking all such activities. It helps to create a long lasting impression in the guests mind.
The first meeting point of the guest is the front office. As we know "face is the index of mind" similarly the front office department is the icon of the hospitality industry,a first meeting point of the guest. With the above features the students learn about the style of handling guest with manners of grooming etiquette and communication skills.
Chennais Amirta Front office lab has the following Infrastructure:
Well furnished with furniture,
Upholster and air conditioner
Array of clocks of different countries to make them familiarize with international timings.
EPABX (Electronic Private Automatic Branch Exchange)
Fax, internet, Printer, scanner, CCTV cameras, Etc