January 19, 2021
12 : 16 pm
What is the one occupation that can possibly land you in a range of exciting job opportunities, from ultra-modern 7-star hotels and resorts, travelling atop majestic ocean liners to exploring nature in an unprecedented way – all the while getting paid for it? The only answer is the hospitality sector. If you have a dream of working in the hotel management industry, you should know that it comes with many exciting and challenging opportunities. In the recent years, many students are inclining towards a degree in hotel management. Recently, the World Travel & Tourism Council affirms that travel & tourism accounts for 8 percent of total world jobs.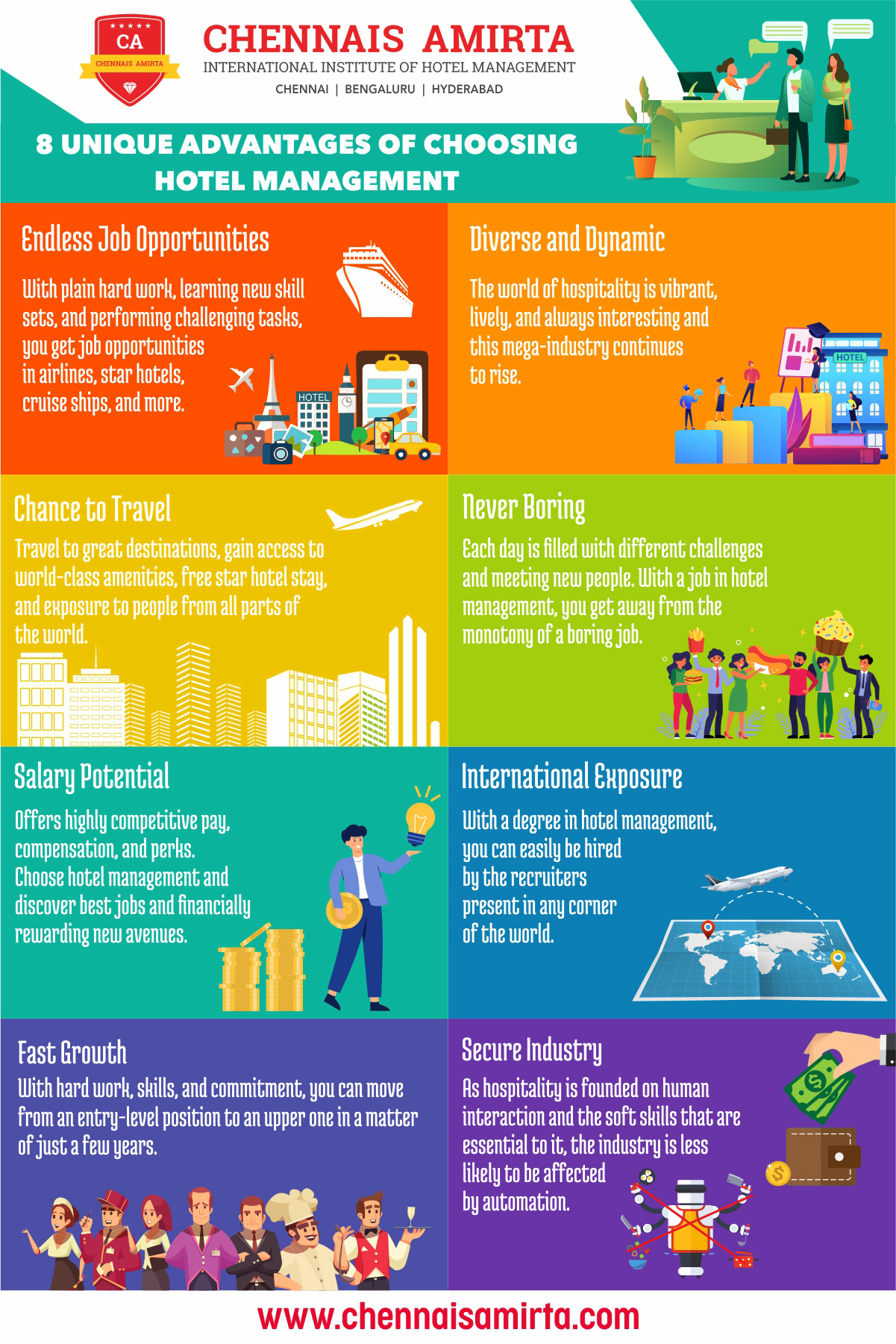 Diverse and Dynamic
The world of hospitality is vibrant, lively, and always interesting and this mega-industry continues to rise. It has mostly been unfazed by economic, social, and other turbulence. By getting into a hotel management degree, you can take early responsibility and learn a lot of new skills at a relatively early age.
Salary Potential
Offers highly competitive pay, compensation, and perks. A career in hospitality can very easily be the key to discovering new countries, new cultures, new people, and financially rewarding new avenues. If you are skilled enough, hotel management can provide you with a financially lucrative position. With the number of hotels and resorts opening around the world, the requirement for trained hotel professionals has increased.
Chance to Travel
If you love to travel or get bored staying in one place too long, you'll be delighted to learn that one of the biggest benefits of working as a hospitality professional is the mobility it offers you. The hotel industry has a lot of perks including traveling to great destinations, access to world-class amenities, free star hotel stay, exposure to people from all parts of the world, as well as great pay. Travelling also gives you a chance to strengthen your communication skills, overall personality and get to learn about new cultures.
Never Boring
Each day is filled with different challenges and meeting new people. With a job in hotel management, you get away from the monotony of a rigid routine. You have plethora of options to choose from. With a job in hotel management, your daily work environment is constantly changing and evolving, and there will almost always be something new and exciting going on.
Endless Job Opportunities
The hospitality industry virtually has all the job positions in the book. With a degree in hotel management, you can easily be hired by the recruiters present in any corner of the world. Unlike other industries who demand years of work experience, the hotel management industry offers a number of career opportunities for entry-level professionals who have the right type of training.
International Exposure
The hotel management industry is very huge. You can find different hospitality companies anywhere in the world. Because of this, you will have unlimited opportunities for your career and choose to work at your local or find jobs abroad. Many hospitality and luxury companies have properties in many countries, so their employees can transfer internally to work abroad.
Fast Growth
With hard work, skills, and commitment, you can move from a low-level position to an upper one in a matter of just a few years. The quickest way to a stellar career in hospitality is to start with a recognized hospitality degree.
Secure Industry
Hospitality is founded on human interaction and the soft skills that are essential to it, which is why the industry is less likely to be affected by automation. People always need food, drinks and somewhere to sleep, don't they? So, even in weak economic climates, where every other industry is striving hard to survive, the hospitality industry is relatively secure.
Choose Chennais Amirta!
For an amazing career in hotel management, start with a hotel management degree at Chennais Amirta. With 4 campuses in India's top metro cities and well-experienced faculty, we transform young students into the best hotel management professionals! If you are looking for a career path in which there is a lot of room for career advancements, then you should choose hotel management course at Chennais Amirta. The skills and education you acquire at this prestigious institute will allow you to work anywhere in the world!