April 21, 2020
03 : 00 pm
"Hoteliers Connect" is a programme organized and conducted by Chennais Amirta Bengaluru Campus in which leading hoteliers and industry experts are invited to provide a knowledge sharing session with our students.
This week, Chef Praveen Shetty, Executive Chef of Conrad Bengaluru spent his valuable time sharing his inputs to our students on the topic "INDUSTRY AFTER COVID-19"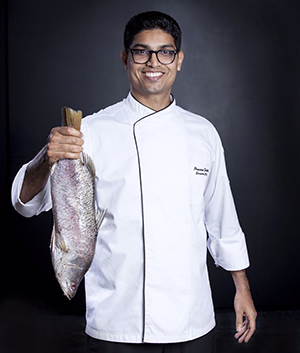 Praveen Shetty started his career in 2005 has over 13 years of experience in the kitchen with an enviable body of experience achieving culinary expertise. He was appointed as the Executive Chef of Conrad Bengaluru in June 2017 to lead the pre-opening team of chefs at Conrad Bengaluru, which is the second luxury hotel in the Hilton portfolio in India. Chef Praveen Shetty believes in keeping it original by sourcing the finest ingredients from origin markets across the world. He is passionate about adapting new global culinary techniques like "Pans to your Plate", "Source Local Serve Global" and innovative plating and presentation. Chef Praveen Shetty has been awarded Executive Chef Of The Year (Zonal) by BW Hotelier India Awards 2019.
Here are the key takeaways from our Chef Praveen Shetty's Online Webinar on 21st Apr 2020.
Chef explained the secret to a successful career in the hotel industry with his own career growth as an example and provided tips to the students.
He briefed about the current situation of the Hotel industry due to the impact of COVID-19 and also pictured the Hotel industry after the Covid-19 phase is over.
He explained about the new techniques that should be followed in the hospitality industry to ensure the safety of the guests after this COVID-19
Chef requested students to focus towards Cost cutting and revenue generation techniques as these areas will be of prime focus in the upcoming months of the industry.
He explained the initiatives taken by Conrad Bengaluru to bring awareness to the guests about the safety precautions at the hotel during this pandemic situation
Chef Praveen also briefed about the various programmes of HILTON group to our students and encouraged them to join the Hilton group after their studies for a fruitful career.
He guided our students to take up any job related to hospitality industry until the pandemic situation ceases and the industry bounces back to normalcy.
Chef inspired our students with his life experiences, how to focus on goals and achieve them in a short period of time.
Chef Praveen Shetty concluded the session by providing a positive vibe to our students by assuring them that the "The Industry will bounce back after this crisis" and insisted them to work hard and stay positive.